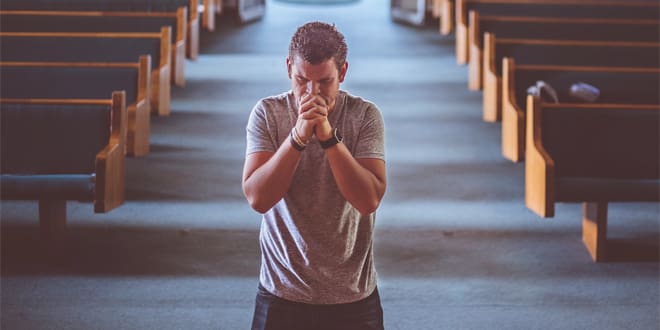 I Am Not "Gay," I Am Loved
I once despised the Lord.
Each Sunday I would dread seating myself in the church pews for Mass, giving the end of my weekends to a God who I quite honestly wanted nothing to do with.
I was furious at Him.
Being a Catholic man who experiences same-sex attractions, I spent so many years of my life seeing the Father as nobody but a cruel villain who had intentionally broken the mold when He created me.
Why couldn't my Maker, who everybody else claimed as being "so good", just allow me to be attracted to women like all the other guys around me were? Why couldn't He "fix" me rather than leave me in my sheer brokenness and distress?
These were just a few of the many doubts that viciously ate up my adolescent thoughts.
Eventually my darkened mindset spiraled me into an identity crisis that not only lasted a number of years but had a painful effect on my relationship with others, with myself, and ultimately with God.
For the second half of my high school career and for the first two years of my college experience, I fully embraced myself as "gay".
It was who I proclaimed myself to be.
My physical attractions to men became the focal point of my existence and everything within it.
I romantically and sexually pursued a variety of guys.
I became active in the LGBT+ social circles in my local area.
I was involved in the party scene, regularly attending drag bars, night clubs and frat parties.
All the while, however, a gaping hole remained in the depths of my human heart.
I kept tasting the fleeting happiness of earthly pleasures, though my soul continuously starved for the eternal joys of the Lord.
I desperately yearned for something, someone, far greater than myself.
It was in the late hours of a random night that the Lord revealed His face to me, the sacred face that my eyes had been longing to gaze upon.
At last, I confronted the path of destruction that I had taken myself on and realized the emptiness it was inevitably drilling into my soul.
My heart had been drowning for so long and, simply put, I was exhausted from sinking.
That night, I recognized the grave I had dug myself into and was fully aware that I needed to be risen from it.
But I also acknowledged that I could not be raised up on my own…
"Jesus, if You are who You say You are, then please help me carry my cross. Because, quite frankly, I cannot do this alone".
By nothing other than a multitude of Heavenly graces, I can humbly say that it's been about two and a half years since the Lord called me out of my grave on that pivotal night.
I would be lying if I claimed that my journey of life has been easy since.
The cross is heavy and the flesh is very weak.
I am still a sinner and I still have far more sanctification ahead of me.
With this said, however, I can sincerely attest to the reality that I have never been more fulfilled in my life than I am now living in the Lord's love.
Through authentically carrying my cross, I have truly experienced resurrection with the Resurrected King.
I finally know Christ on a real and intimate level and I only continue to dive deeper into the oceans of His goodness.
Yes, I am still physically attracted to men.
Yes, I faithfully live in abstinence of my same-sex attractions in accordance with Catholic Church teachings on homosexuality.
However, unlike before, I no longer define myself as being "gay" or by my mere human desires.
Rather, I now see myself exactly as Abba has seen me since the day I was conceived: as His own.
I am a beloved son of the Creator.
I am a fierce man of God.
I arise each day as such and direct myself and my actions accordingly.
A life of chastity is not a mundane life of loneliness, repression, and misery as I had once assumed it to be.
Rather, a life of chastity is a life of such wonderous freedom from the fleshly enslavement that once held me down.
As proclaimed in Sacred Scripture, I know the Truth and He has set me free (John 8:32).
What a beautiful cross this is.
What a good God He really is!
___________________
Emmanuel Gonzalez, though most known simply as Manny, hails from Dallas, Texas and is a student at Franciscan University of Steubenville. He uses his online social media platforms as a means to evangelize and bring souls to the truth of sexuality. Manny's courageous testimony featured with Catholic organizations such as Courage International and the Theology Of the Body Evangelization Team.