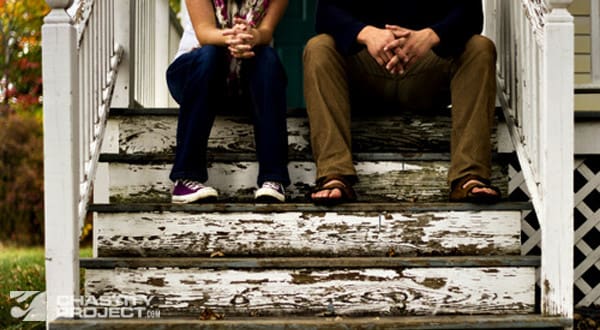 Waiting for Mr. or Mrs. Right
Most people go through a time of waiting before they find the person they want to spend the rest of their life with. For many, this can be a time of uncertainty and even loneliness. Other than maintaining great personal hygiene (because that's always important), here's what you can do to prepare for your future marriage:
The time we spend anticipating the arrival or Mr. or Mrs. Right is largely a question of vocation, so for those who aren't familiar with that concept, let me take a second to describe it. Christianity teaches that our ultimate goal in life is to live in communion with God and others who also share in that happiness. This is one way of describing heaven. In order to receive and share that kind of love, we have to become more loving, and this is what our vocation does. Vocation is the means through which we embrace a role of self-giving love. If you've discerned that marriage is the vocation for you, you may find yourself waiting for Mr. or Mrs. Right to come along. What then?
When we have a goal in mind, we focus our time and energy into preparing for that goal in the hopes that it will be realized. For example, we study a particular subject in order to land a job in that field. This can be years of intense preparation, but we don't hesitate to do the work required if it's a necessary component to achieving that goal.
For some reason, when it comes to marriage and the pursuit of our vocation, many of us are simply waiting for our wedding day when we should be preparing. The key to understanding your vocation is to know that it doesn't start on the day you get married. You should be already living your life in a manner that prepares you for the day that you say, "I do." So if you're wondering how, here are some suggestions:
Anticipate the kind of person you want to marry.
Don't mistake this for coming up with a list of characteristics and then refusing every suitor who doesn't meet every criteria. You don't want to marry a list, you want to marry a person. Instead, decide what kinds of values and character you want your spouse to have and then make sure you possess that same character. It's no good to expect your future spouse to measure up to high standards unless you're living up to those standards as well. If you have a list, become the list!
Spend time nurturing your relationship with God.
We can all admit that we aren't complete selfless, loving beings. We need help in this regard and the one who can help us is the God who is love. So, we need to grow in intimacy with him in the hopes that some of that good stuff will rub off. The way to do that is through prayer and reception of the sacraments. If you're skipping out on those, you're depriving yourself of the wellspring of love.
Practice chastity.
If you can't learn to be faithful to your future spouse now, what makes you so sure you'll be able to later? Demonstrating your ability to love exclusively while you're single will attest to your ability to do it in the long-run and, likely, you'll find that reassuring if your future spouse can demonstrate the same thing. Live as if you are already reserved, because you are.
Don't spend this time of waiting passively. Begin living your vocation now and show God that you're ready for him to set you up with the person that he has been preparing for you.
_________________________
Brian is passionate about the Church's ability to communicate effectively in the modern world. From his role as the Creative Director of Holds Worth Design, a Graphic Design and Web Design studio in Edmonton, Canada, he promotes the use of strategic communication and effective branding and packaging of timeless truths through modern means. Learn more about his work on Facebook and Twitter.