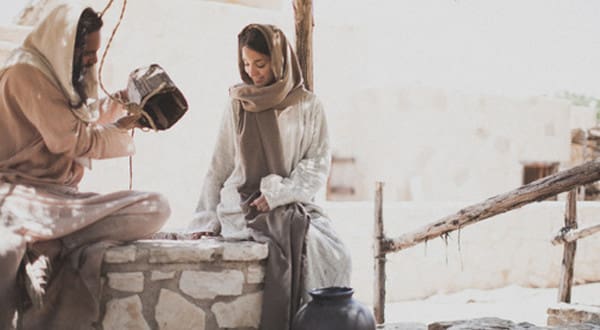 Looking for Love in all the Right Places
Every day we're bombarded with messages about what promises to satisfy us—pleasure, food, technology—you name it! We want it all, and we want it now.
Ultimately, the only thing that will satisfy us is love. We're made for love, but if we expect the world to satisfy our deepest cravings, we'll always hunger for more. Our God-given desire for love is a good and beautiful thing, but we often fall for the counterfeits.
You may have heard the phrase "women give sex to get love, while men give love to get sex." This was true in my life, but it took me a long time to realize it. I was desperate to know I was lovable, so I fell for the words of someone who promised such "love." Unfortunately, because the relationship wasn't centered on God, the promises were empty.
The good news is that Jesus can heal our desires and restore them to God's original plan: To receive our worth from God, and offer ourselves as a selfless gift in love to others as Christ did for us.
Christopher West points out in his talks on the Theology of the Body that Jesus was full of compassion for those trapped in sexual sin. He saved the woman caught in adultery from certain death by stoning and assured her she was forgiven. He treated the woman at the well with a level of human dignity which she had never before received. This level of compassion was more than a sign of God's love for all people. Jesus knew that these women were actually looking for Him—they were trying to fulfil a desire that only He could satisfy, they just didn't realise it.
And it's not just women! One man wrote that "every man who knocks on the door of a brothel is looking for God." The desire for love is written into all of our hearts because we were created for God, and God is love. The trouble is that we've lost sight of that truth, and instead we search for love and fulfilment elsewhere.
As I prayed this through in front of the tabernacle, I was reminded of the words of Tenth Avenue North's song "Love Is Here":
"Love is here, love is now.
Love is pouring from His hands and from His brow…
Come to the treasure you who search, and you'll search no more.
Come to the lover you who want, and you'll want no more."
Love, true love, total love, is found in Jesus Christ alone. No counterfeit or lie will suffice. We don't have to settle for falling short of God's plan for us. We're called to more: we're called to challenge the lies we hear, to love each other as Christ loves us, and to allow ourselves to receive the same love.
Is there an area of your life where you've sought love and have been disappointed? Invite Jesus into that place, and ask Him to reveal His love to you. He won't disappoint you.
______________________________
Esther Rich has a bachelor degree in Psychology from Oxford University, UK, and is currently completing the Sion Community Foundation Year, working on their youth ministry team. She loves Theology of the Body, Papa Francesco and a good worship band. She is passionate about empowering women to be who they were created to be, and blogs at "For Such A Time As This."