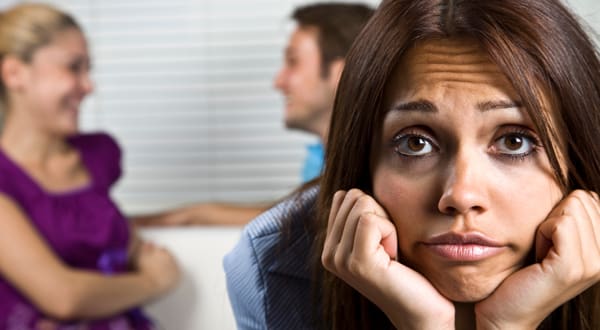 How to help a friend who struggles with chastity
Being chaste in today's world is tough. We are surrounded by a media that says it's uncool to be a virgin, it's weird to dress modestly, and it's outdated to abstain from anything pleasurable.
In high school, I had friends who allowed themselves to be objectified and tossed around. Once they were defeated, bruised and heartbroken, they would approach me asking, "Hannah? How have you managed to avoid this pain and heartbreak?"
Prior to high school when I received my first purity ring, I decided that I wouldn't watch pornography, I would never get drunk or do drugs, I would dress modestly, and I would wait until I was married to have sex. With a lot of prayer and with the help of my faith, I have kept that promise.
Although I held steadfast, it killed me watching my friends sleep around, coming home wasted from over-the-top parties, and seeing them jump from bad relationship to bad relationship. My friends would frequently face brokenness and heartache as a result of their decisions. My heart ached for them and I wanted to help… but how?
Over the years, I've learned that helping a friend who is struggles with chastity comes down to three things:
1. Listen
Encourage your friends to talk about their struggles. Sometimes, hearing it out loud from their own lips is enough to get someone to recognize that what they are doing is damaging them. You don't always have to say anything. Just listen to them and offer a shoulder to cry on.
It's important not to judge them, just be the foundation they are lacking elsewhere. There may a void in their lives, they may feel insecure, or that they lack love and are seeking it. Every situation is different. Hearing them and helping them find the core of why they feel these insecurities can be the start of healing for them.
Often times, it's comforting to be heard.
2. Pray
This is a topic that is brushed off so easily because it seems too easy. Prayer is a word that is tossed around so much that people forget the power behind it and it isn't taken seriously. But it's so crucial for you as a friend to pray for those who are struggling.
They are in need of healing that only God can provide, not you as a human.  Prayer doesn't have to be long and poetic. It can be as simple as "Heavenly Father, send your most Holy Spirit to give wisdom and healing to (insert name here) as they struggle to live a chaste life."
Your friend is a child of God, whom He loves and died for. Ask God to forgive and them and guide them as they seek the respect that every child of God should have.
It's not your responsibility to "fix" or "heal" them. It's a task that is between them and the Lord. Be their spiritual cheerleader and ask the Lord for help in the things that you cannot do, because with God all things are possible.
3. Witness
If I was hooking up with guys on a regular bases, but telling my friend that she and her boyfriend should stop sleeping together because it's hurting her, how likely is she to listen to me? What does it mean to be a witness? It means to live in a way that you are encouraging others to emulate.
If you are joyfully living the pure, chaste life, your friends will recognize the pain that you avoid and the joy and happiness that you have because you have love and respect for yourself. They are going to want what you have in comparing their pain and brokenness to your joy and happiness, and they are going to want it.
It isn't easy watching friends suffer. It's so easy to give up and say there is nothing left to do, but don't lose hope that they can turn their lives around. Everyone can be healed.
_______________________
Hannah Crites is a freshman at Franciscan University of Steubenville majoring in Theology and Mass Communications with a focus in Journalism. She hails from Denver, Colorado and enjoys eating Twizzlers, long walks on the beach, talking in a horrible British accent, and the word "discombobulate". Check out more of what she has written at http://youngcatholiccentral.wordpress.com/